Mark's on a mission!
Advanced Nurse Practitioner, Mark Randell, from the LPT community paediatrics team, has just returned from Samoa, where he spent two weeks providing emergency relief as part of a 13-strong UK-Med team responding to the measles epidemic there.
Mark has a background in acute paediatric medicine, and has worked for LPT since 2008, including in medical education. Alongside the day job, he is also part of UK-Med, one of the partners that make up the UK's Emergency Medical Team (UK EMT) which is funded by UK aid and which is called upon by the World Health Organisation (WHO) to respond to humanitarian crises around the world. This was Mark's second deployment in recent years; he flew out to Bangladesh in January 2018 to provide support for a diptheria outbreak.
The UK-Med team worked alongside AUSMAT, the Australian emergency team who had been in Samoa since mid-November. They were based in a temporary field ward constructed outside the main hospital, increasing its capacity significantly.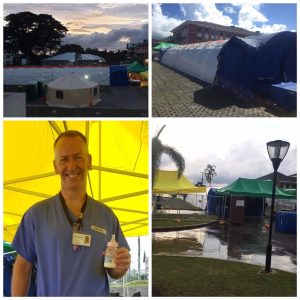 At the height of the measles outbreak in Samoa, there were more than 200 new cases each day, with the majority being children under the age of four. A state of emergency had been declared with local schools closed. Significantly, local immunisation programmes had only had uptake levels of 38 per cent prior to the outbreak, and the Red Cross and WHO have been vaccinating as many children as possible in an attempt to halt the spread of the disease.
Measles is a highly contagious viral infection and while there have been some localised outbreaks in the UK in recent years, it has largely been wiped out thanks to immunisation programmes. Initially it causes upper respiratory tract infections such as croup which then develop into very serious conditions such as pneumonia.
Mark said:
"I joined UK-Med as a way of maintaining my skills in emergency paediatrics. It's certainly challenging working in these kinds of environments, but also hugely rewarding to know you are making a real difference not just in terms of relieving local clinicians, but also helping patients. These deployments certainly make you appreciate the NHS and our vaccination programmes."