Welcome to Rutland County Council – we are committed and responsive in a way many other county authorities can only dream of. Our health and social care workers can see cases through to their conclusion and influence a broader range of services, they get closer to service users. With a new leadership and vision, we are poised for even bigger and better things in the future.
For
Pay and benefits info:
We offer competitive pay and reward the hard work of our staff. For qualified social workers, this includes a market supplement payment in addition to your salary
You will automatically have access to the Local Government Pension Scheme. This is a secure scheme with excellent benefits
You will have a generous annual leave entitlement, beyond the statutory minimum. This is starting at 24 days in addition to bank holidays, increasing by 5 days after 5 years service
We try to ensure your responsibilities, commitments and dreams outside are supported tohelp you achieve the perfect worklife balance
A commitment to ensure you will have a manageable caseload, giving you the time you need to work with our service users

We invest in our employees to make sure you have the right skills and experience to provide a first class service to the people of Rutland. The training we offer includes professional and personal development – a real opportunity to grow

yourself and

your career.

We provide access to both occupational health and employee counselling services, offering professional support and guidance
This is what our staff say: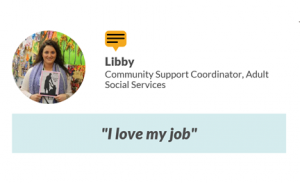 What attracted you to RCC?
When I was a little girl I had the opportunity to visit a day centre periodically and it left me with such good memories that when I left school I decided that I wanted to work in learning disabilities myself. I am so glad I'm here as it's such a rewarding career and I have a great team around me.
What makes RCC different to other employers?
The council has a reputation for being a very good employer and there are lots of opportunities available
What do you love most about working for RCC?
I love the people I work with and the fact that my role is busy and challenging. Every day is different which keeps me on my toes.
To read more about Libby's story, and to discover other staff stories please click Here



Why should people come and work for your organisation?

We know how committed those choosing to work in social care are to the people they work with. It is essential that we are just as committed to the people who work for us. Because when we meet the needs of our staff, they meet the needs of the community.

In practice, this means we believe in working as One Council. Bringing together our strengths, keeping each other informed and working really, really effectively. Integrated working with our partners is just as important. Our successful approach has gained local and national recognition, with nominations for the national LGC Awards for Health and Social Care, and more locally in Leicestershire Partnership NHS Trust Celebrating Excellence Award. And a mention in Parliament…

We are not afraid of trying new things. Following the remodelling of our services in 2016 and the introduction of multi-disciplinary teams, in the first year alone we achieved:

91% of people receiving post hospital re-ablement were still at home 3 months on

A 50% decrease in the number of people entering permanent residential care

A reduction in emergency admissions

A 41% reduction in hospital beds taken up by delayed discharges

And we didn't stop there. In September 2017 we were the best performing local authority in the country. ee are only the second local authority to have an Admiral Nurse providing dedicated and specialist dementia support among its social care services. We will continue to integrates services and find different ways to do things to avoid reducing or removing services.

Healthcare Job Vacancies at Rutland County Council

Opportunities to develop your career is not just something we say we can provide. For instance all of our service managers and team managers have been promoted internally, starting as Social Worker or Care Managers. Most importantly training and development opportunities are always available. Whether this is short courses to refresh skills or Apprenticeships and formal qualifications to underpin on the job experience.





What things do people love about working with your organisation?


Feedback from staff always talks of the strengths within teams. People take ownership and responsibility, they share information and knowledge and are supportive of one another. Management are inspirational, passionate and accountable, and members of staff are happy to recommend working here.




What things do people dislike about working with your organisation?


As with any organisation, there are areas to be worked on. Including how to accommodate our integrated teams to enable easy access to services. Importantly, staff feel they can be honest in their feedback, and we have developments in the pipeline to address the issues.



Whatever stage you are at in your career, if you interested in finding out what it is like to work here at Rutland County Council  – through participating in work experience opportunities, then get in touch…
Find out more
A role in one of our Social Care teams is an opportunity to make a huge impact – both in Rutland and for your career.