An apprenticeship through our Leicester, Leicestershire and Rutland providers could be the opportunity you have been waiting for. You could learn the practical skills required, and provide outstanding care and support to our patients.
Apprenticeship Levels
Our partners offer apprenticeships at Intermediate (Level 2), Advanced (Level 3), and Higher (Level 4) levels. These can be within clinical or non-clinical environments. The mixture of educational learning with hands on experience is a great way to gain confidence and knowledge.
Career Opportunities
There are great career opportunities for apprenticeships within Healthcare. Our partner organisations offer a range of programmes which cover a variety of roles in clinical and non-clinical areas. Have a look at our partner's apprenticeship pages below and find your future career today!

Find out more about the apprenticeships our Partners offer: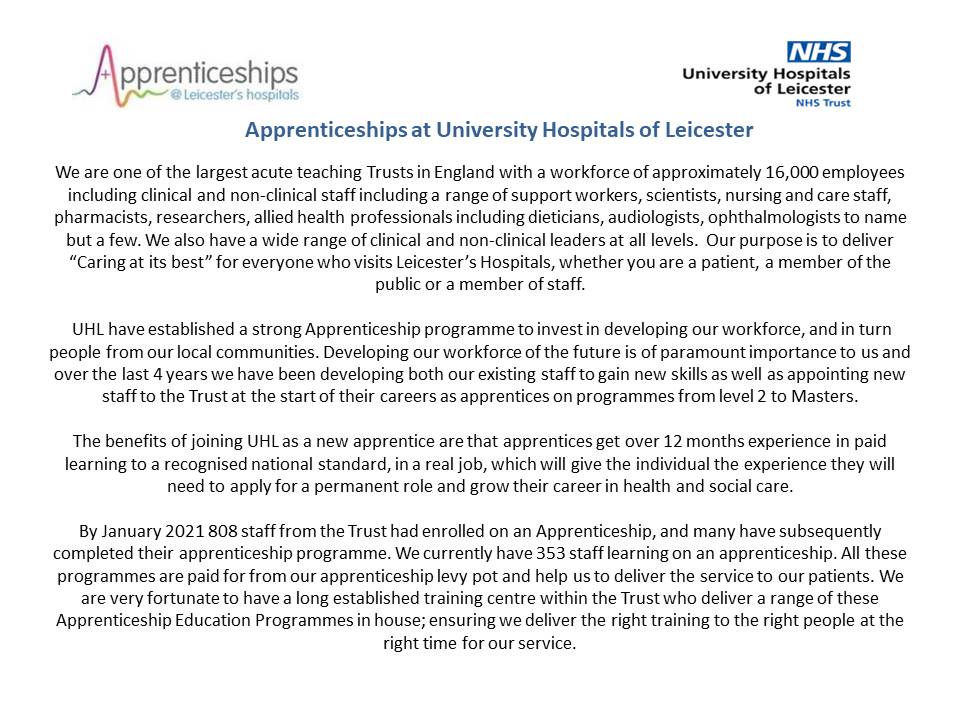 To learn more about apprenticeships and what they can be like, here are some stories from Apprentices at University Hospitals of Leicester:
---
Liz - Customer Service Apprenticeship

Hello my name is Liz and I am proud to say that I work for the University Hospitals of Leicester NHS Trust (UHL) and have been studying a Customer Service Apprenticeship Education Programme with the UHL Apprenticeship and Development Centre.

I work on the front line as non-medical admin staff. Every day I am in awe of how wonderful our patients are. They blow me away with their approach to situations and how they deal with life challenges such as diagnoses and treatments. I have done my role for a number of years and my key role has been to ensure that the continuity of service, care and support is there.

Doing an apprenticeship in my 40's was always going to push my boundaries of confidence and self-belief. Completing my apprenticeship and getting results during lockdown has been a welcome distraction from the COVID-19 climate. The skills I have picked up through study days and learning has made me stronger, resilient and since results day I know that I can do anything I put my mind to, nothing is impossible with teamwork and positive mental attitude. And the motivation of achieving and passing was something to aim for when the days where hard, knowing I was doing this to not only improve myself but would demonstrate to my children that despite COVID-19 anything was possible, even Mummy passing her course!

In respect of my learning and apprenticeship the Learning and Development team has been the pinnacle of fantastic! Adapting learning methods to suit my circumstances, always contactable and they gave me the strength to know that despite COVID-19 we will get to the end of my apprenticeship together.

Practical IT skills I acquired through my apprenticeship have assisted me in compiling COVID-19 related patient information sheets and updates for colleagues such as flow charts and policies. Without the knowledge on programs such as Microsoft publisher which I learnt on my course I would have not have been able to produce some of the documents we have used though this current situation. Therefore my apprenticeship really has helped and assisted with not only my skills set but by pushing my comfort zone it's made me have more confidence and faith in my capabilities and knowledge.

I feel there has been an opportunity for learning and professional development during this crisis. At UHL throughout this time I have received every opportunity for continued personal development. The Learning and Development team have provided support, guidance and made adjustments for learning in the workplace to happen without any compromise on patient care. I believe having to adapt to the pandemic has developed my interpersonal skills such as flexibility in thinking and working patterns, as well as resolution to unexpected situations. Most of all I learnt from my colleagues and course facilitator that having empathy for others as they show to me is paramount in portraying compassion, care and commitment to others.

Now my apprenticeship was completed I was left with a passion for learning and a thirst for knowledge. I just want to finish by saying a huge thanks to the awesome UHL Learning and Development team. As a Hospital we are so lucky to have them. I wish I could take the magic and sparkle they make happen and just sprinkle it everywhere!
Tammy - Senior Health Care Assistant Apprenticeship

Hello my name is Tammy, I have been completing a Senior Health Care Assistant Level 3 qualification with UHL Apprenticeship and Development Centre.

In my current role I work at UHL with patients coming in for elective admission. I prepare patients for their procedure and take swabs including MRSA and Covid-19 swabs plus other important infection control and patient pre-op preparation. As well as interacting directly with patients I have an administrative role too.

During the pandemic I was moved from my normal clinical role into a different role altogether, so I have faced challenges which have included a change of job role and a change of colleagues. Personally, I have faced challenges of uncertainty which has made life difficult, but I feel I have coped with all these challenges well. I have been shown great support from my colleagues not just the colleagues I work with daily, but from new colleagues I have worked with during the pandemic too, we're always checking in on each other and they let me know I have a good support network. Patients and visitors have also been amazing during this time have mostly shown their gratitude and support passing on their thanks regularly and giving praise for the work we do.

I found doing the qualification during the pandemic difficult at first as I wasn't sure what support there would be and how it was going to work as I was coming towards my EPA. However, my mentor was very supportive and helped me complete my qualification easily setting up all the things necessary for me to gain my qualification smoothly. I feel that I there have been opportunities for learning and professional development during the crisis and I feel I have learned a lot from this experience. I refreshed skills I haven't used since I completed my care certificate, skills that I have but don't use on a regular basis as they are not need in clinic but are essential to helping on a ward. This gave me great confidence in my role.

Results day was a brilliant day; it was a great relief to know the course had been completed and that I had passed (with distinction). I had worked so hard for what felt like a very long time that the release was amazing that it was complete and that I had achieved something I never thought I would. I celebrated with family at home but informed all my colleagues who had supported me through the learning who was very pleased with my results too. I received several gifts from the colleagues who had supported me as they know how much work I put into my learning.

After results day I thought I wanted to take a break from learning. However, after a couple of weeks I felt a bit lost not having any learning to do. I spoke to my mentor who was happy to help with guidance I received lots of information about other courses and I am currently looking into future progression.

I would advise students who are getting their results in August to keep learning while you have the bug for it!
Lottie - Customer Service Apprenticeship

I am Lottie Wright. I started the customer service level 2 apprenticeship when I was 16, I am now nearly 18. I work in the NHS UHL Trust for the Biomedical Cardiovascular Research Centre, in the Translational Medicine Facility and Clinical Research Facility – liaising with the University of Leicester.

Before I started my apprenticeship I was in high school doing my GCSE's. Customer Service Level 2 is the course that I chose as I wanted to begin a career in the NHS. However since completing the apprenticeship I have been inspired to gain clinical experience by the nurses I work with and progress my career into nursing.

I struggle with anxiety however realise if I am worried, I have people in the work place to speak too who will support and encourage me. I have had huge amounts of support from my line manager and my facilitator, I will always cherish the help and support that they have given me throughout.

The whole apprenticeship has been a significant to me, I have learnt to work in the hospital and most importantly how to work within research which when I started my apprenticeship I didn't have the faintest idea about. Now a year later I am able to communicate with senior academic members of staff, I have a huge understanding of the admin profession and how to apply it in this area of work.

Being an apprentice doesn't mean that you're any less value. Your role is as important as other employee's roles. I have been able to learn while getting paid, in a real life environment. I was successful in my apprenticeship gaining 100% across all parts!

I am now a Maternity Assistant and aspire to train as a Nurse. I plan to do this through a Nursing Associate Degree and then a Shortened Nursing Degree to become a registered Nurse.
Keziah - Customer Service Practitioner Apprenticeship

My name is Keziah Jasmine Kumar and I did the Customer Service Practitioner Level 2 apprenticeship. I decided to start an apprenticeship as I was new to the UK and wanted some work experience to pursue my career.

During my apprenticeship I enjoyed learning new skills like telecommunication, my communication skills and the new knowledge I acquired during the process
The new knowledges I learned I use in my role, and also developed Admin and receptionists duties and problem solving skills.

I would 100% recommend this apprenticeship programme to any new starter without any work experience to progress in their career. I would have never achieved a permanent job for which I am thankful for the opportunities and support given by the NHS.
I have progressed since starting as an apprentice. Six months in I was able to achieve a permanent Band 2 job role in the same department with my experience as well as I was able to complete my apprenticeship programme successfully.