'Clean Air Clive' teaches children about air quality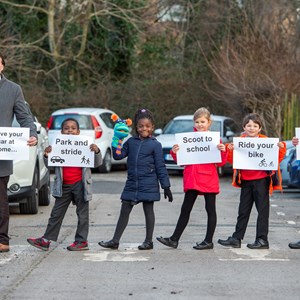 PUPILS at a city infants' school have been learning about the impact of air pollution with the help of 'Clean Air Clive'.
Clive is a colourful sock puppet who will help young children to understand what we can do to improve air quality around our schools. He recently paid a visit to King Richard III Infant and Nursery School, in Andrewes Street, to share this message.
Clive joined Leicester City Council's education officer for air quality to share 'Clean Air Clive's top tips for cleaner air' with pupils and staff at the school. These include walking, cycling or scootering to school instead of travelling by car. If it's not possible to avoid driving, parking a little further away and taking a five or 10-minute walk to school is recommended, to help reduce air pollution directly outside schools.
Deputy city mayor Cllr Adam Clarke, who leads on environment and transportation, said:
"We have an education officer for air quality because we recognise how important it is that we all work together to make a positive impact on air pollution – it's a message that everyone can share, including young children, who can help influence their families to take action.
"We're making progress on tackling air pollution in Leicester, but we still face challenges, which is why we're putting forward ideas like a workplace parking levy. In the meantime, choosing a better way of getting to school is something we can all do to help improve air quality.
"Listening to younger people's voices is vital. Our air quality education work is complemented by our thriving eco-schools programme and, with our young people's council, we're also hosting a young people's climate assembly later this month as part of Leicester's Climate Conversation. We recognise that many children and young people are passionate about the climate emergency and that we need to listen to their concerns and ideas."
Lou Harrison, headteacher at King Richard III Infant and Nursery School, said:
"As a school, we take every chance to encourage the children to take more care of the environment and we've really enjoyed this great opportunity to add another aspect to our work."
Teacher and eco-school lead Clare Wilson added:
"It's exciting to welcome Clean Air Clive to King Richard's. Working with our school council, he's helping all of our children to understand more about this problem and to have lots of fun while they learn."
Clean Air Clive will be used to deliver a series of workshops for Key Stage 1 pupils at schools across the city.
To find out more about Leicester's response to the climate emergency, visit www.leicester.gov.uk/climateemergency
More information about air quality is also available at https://www.choosehowyoumove.co.uk/healthier-air-for-leicester/