Carolyn Fox, Chief Nurse at Leicester's Hospitals bestowed with OBE
We are immensely proud to share the news that Carolyn Fox, our Chief Nurse at University Hospitals of Leicester NHS Trust, has been bestowed with an OBE in the New Year's Honours List 2020.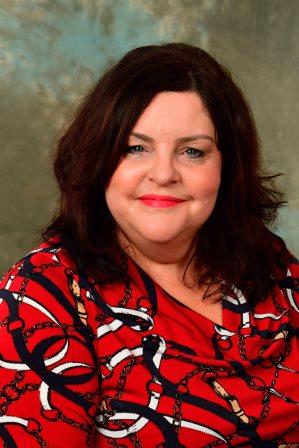 Carolyn, who has been Chief Nurse at Leicester's Hospitals since 2018, has been bestowed the award in recognition of her services to nursing over her 32 year career during which she has dedicated herself to improving patient care and advancing the education and development of nurses and midwives across the country.
Carolyn said: "I am honoured to receive an OBE and I couldn't be more delighted that it comes as we head into 2020 – the Year of the Nurse and Midwife – which will celebrate and promote the amazing contribution made every day by nurses and midwives across the globe.
"Creating and leading a culture where nurses and midwives feel valued and inspired to deliver excellent standards of care for patients, is a lifelong passion for me. The honour of receiving this award is one I'd like to share with all the nurses and midwives who work tirelessly to look after people with compassion and heart despite the challenges we all face. I'd also like to take the opportunity to thank them for their service and care for patients."
Carolyn believes the celebration and appreciation of nurses has a huge role to play in improving standards of patient care and increasing morale amongst the nursing community. At Leicester's Hospitals she has led the introduction of the DAISY awards, which honour and celebrate the skillful compassionate care that nurses and midwives provide. She has also supported the national Cavell Star awards programme within the Trust which sees nurses celebrated for their care and support for patients, colleagues and patient's families.
Harnessing new ways of positive involvement, Carolyn also regularly uses social media to interact with and inspire nurses and midwives. She regularly visits colleagues delivering front line services and is always keen to listen and learn from their experiences to help make improvements.
Carolyn's personal career highlights since she qualified as a nurse in 1990, include being the first in the UK to lead affiliation with the American Nurses Association scheme, called Pathway to Excellence, an internationally recognised programme for nursing and midwifery standards, which she introduced in her former role at Northampton General Hospital. She is also incredibly proud of becoming a clinical nurse specialist in 1996, a role she loved and which helped to inspire her career journey.
John Adler, Chief Executive of Leicester's Hospitals, said:
"I am very proud of Carolyn and I'm delighted that she has been recognised in this way. She continues to make an enormous contribution to Leicester's Hospitals as we work to provide caring at its best for each and every one of our patients. 

"Carolyn is dedicated to caring for patients and passionate about nursing and midwifery. She has touched the lives of thousands of patients over her years of service as a nurse, both directly through her exceptional nursing skills and indirectly through the leadership she has shown to other generations of nurses. This is a truly deserved honour." 
Karamjit Singh, Chairman of Leicester's Hospitals, said:
"I am delighted by this wonderful news. Being bestowed with an OBE is testament to the leadership and commitment Carolyn has shown to nursing and midwifery here in Leicester and throughout her career. I wholeheartedly congratulate and thank her on behalf of the University Hospitals of Leicester NHS Trust Board."  
Before joining Leicester's Hospitals, Carolyn was Director of Nursing, Midwifery and patient services and a Board Director at Northampton General Hospital and has also held the positions of Deputy Director of Nursing at Aintree Hospital and Assistant Director of Nursing for Salford Hospital in Greater Manchester. She has been actively engaged in many national committees and authored a number of guidelines relating to clinical practice in the reduction of pressure ulcers.