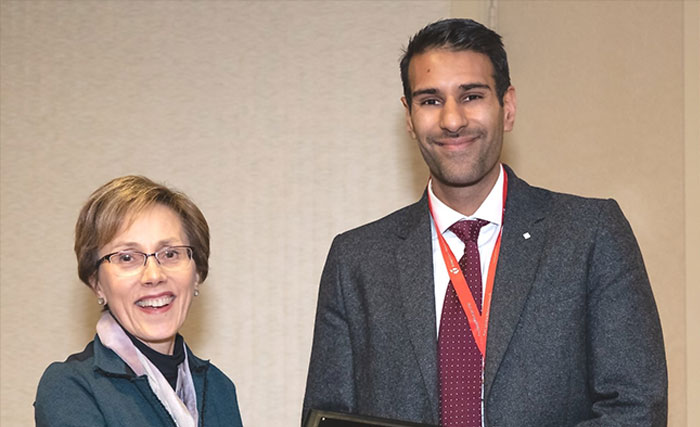 Leicester researcher wins multiple awards for work on heart function in diabetes
A clinical researcher at the National Institute for Health Research (NIHR) Leicester Biomedical Research Centre (BRC) – a partnership between Leicester's Hospitals, the University of Leicester and Loughborough University – has won the American Heart Association (AHA) Council on Lifestyle and Cardiometabolic Health Early Career Investigator Award, and first prize at the British Society of Heart Failure (BSH) Early Career Investigator Competition.
Dr Gaurav Gulsin was one of three finalists who presented at the AHA Scientific Sessions 2019 in Philadelphia earlier this year. He presented the same study at the BSH 22nd Annual Autumn meeting in London on the 28-29 November.
The awards were given for Dr Gulsin's contribution to the DIASTOLIC study, which investigated how different interventions – a low energy diet, an exercise programme or standard care – improved the heart function of patients with type 2 diabetes.
Heart failure is one of the most common complications in people with type 2 diabetes, and younger adults with type 2 diabetes already have changes in their heart structure and function that pose a risk of developing heart failure. The study found that patients who followed the supervised exercise programme had improved heart function. Whilst the low energy diet did not improve heart function, it did have favourable effects on the structure of the heart.
The DIASTOLIC study began as part of an NIHR Fellowship secured by Professor Gerry McCann who said of Dr Gulsin's AHA achievement:
"He was the outstanding presenter of the three finalists and was a superb ambassador for the University of Leicester and NIHR Leicester BRC. 

"This award is just recognition for Gaurav's excellence and we have already mapped out a plan for his future career."
Dr Gaurav Gulsin said:
"This achievement is testament to the outstanding training provided at the University of Leicester. The support I received during my PhD has enabled me to compete on an international stage, and for this I am incredibly grateful. 

"Most importantly, I have had a tremendous amount of fun! I have every intention of keeping up the hard work and hopefully contributing to the continued success of our wonderful institution."
On receiving the award at the AHA Scientific Sessions 2019, Dr Gulsin said:
"It's a tremendous privilege to receive this accolade on behalf of all my wonderful colleagues who were involved in our research."