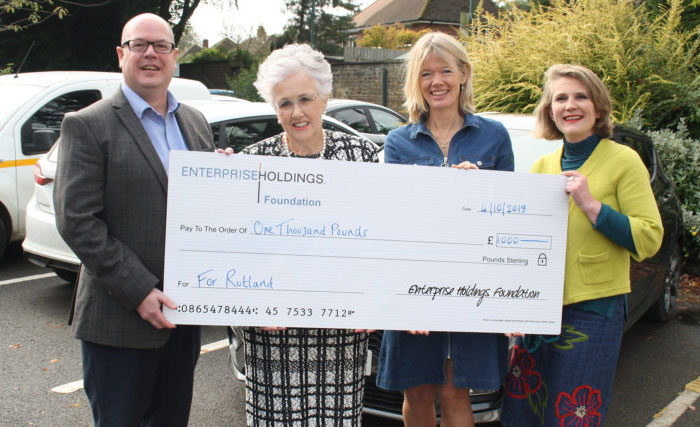 Charity Funds will Help Rutland Families with Long-Term Conditions
Local charity For Rutland has welcomed a £1,000 donation from the Enterprise Rent-A-Car Foundation, made possible by Rutland County Council.
Enterprise provides pool cars for use by Rutland County Council staff, such as social workers who need to travel around the County to conduct home visits.
For Rutland raises funds to pay for specialist advisers who provide free, confidential, independent, non-medical advice to people of all ages living with long-term health conditions.
Enterprise carries out charity fundraising on behalf of business customers, and accepted Rutland County Council's nomination to make a donation to For Rutland at the start of this year.
"I'm so pleased that we were able to nominate For Rutland to be the beneficiaries of Enterprise fundraising and have no doubt this money will be put to good use. Currently, one in four people in the UK suffers from long-term conditions such as cancer, dementia, multiple sclerosis and heart disease. This affects every part of our community and people of all ages. We're lucky that we have a dedicated charity like For Rutland working to provide specialist advice and support to those in Rutland who need it."
Councillor Lucy Stephenson, Cabinet Member for Transport

Living with the practical problems associated with long-term conditions can be overwhelming for families. For Rutland's trained advisers can help Rutland residents and their families with the practical problems such as:

Reduced mobility
Difficulties with employment
Keeping up with mortgage payments
Assistance with transport to hospital appointments
Maximising income and managing debt
For Rutland also ensure that clients are able to get access to essential funding and necessary equipment through grants and benefits. All of the advice is free, confidential, impartial and independent with a unique one point of contact – you need only tell your story once.

"We are truly grateful to Enterprise for their very generous support, which will help us pay for specialist advisers based at Citizens Advice Rutland. The advisers are able to support local residents with practical problems associated with long-term health conditions and also ensure that clients are able to get the necessary funding through grants and benefits at a time they most need it. The advisers do an amazing job and really help to protect people's quality of life during difficult times."
Caroline Hammond, Fundraiser at For Rutland

"Enterprise has a presence in hundreds of locations up and down the country, and we see supporting charities within these communities as a huge part of the value we can bring. When Rutland County Council nominated For Rutland as its charity partner, we were delighted to help because we can see the important work that they do. We're proud to support such a worthwhile cause and we hope that our contribution helps them to continue the vital support they are offering to the community."
Warren Hallam, Head of Business Mobility at Enterprise