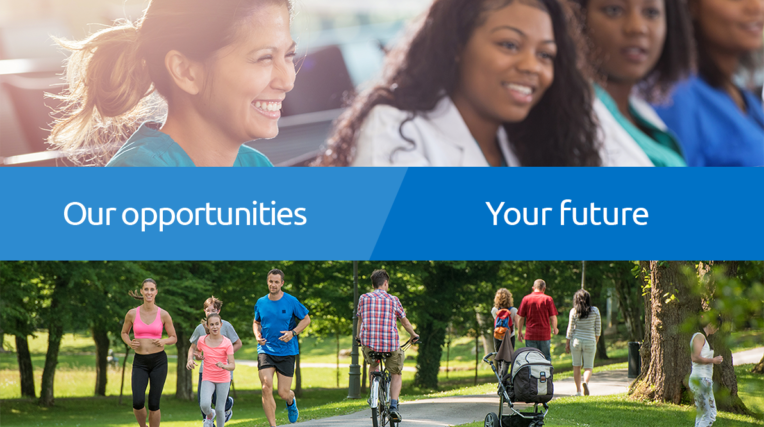 Raising the profile of palliative care community nursing across Leicester, Leicestershire & Rutland
LOROS Hospice is one of five major health and social care employers behind the recently launched recruitment campaign Y/Our Future that is encouraging doctors, nurses and health and social care workers to work in Leicester, Leicestershire and Rutland.
Latest figures from NHS Improvement show that 11.8% of nurse posts in England were not filled – a shortage of nearly 42,000. Experts described the situation as at risk of becoming a "national emergency" given the rising demands on the NHS.
An NHS report last year highlighted the negative impact this is having on specialist nurses, including cancer and palliative care nurses. Hospice UK and the National Council for Palliative Care (NCPC) have also reported that staff shortages and increase caseloads prevent effective pain management at home for dying people.
As part of the Y/Our Future campaign, LOROS Hospice is keen to promote the Hospice and the role of palliative community nursing in a bid to encourage more nurses and healthcare workers interested in working in this field to relocate to the region.
LOROS Hospice provides free, high-quality, compassionate care and support to terminally ill patients, their family and carers, both at the Hospice and in patients' own homes. Its community nursing team delivers palliative care to around 2,500 a year across Leicester, Leicestershire and Rutland.
Clare Green works as a Community Nurse Specialist at LOROS Hospice and goes out to see patients in their homes. Clare has been a nurse all her working life and has worked in a community nursing role for the past 20 years. Clare relocated to work at LOROS Hospice from Peterborough because she particularly enjoys palliative care.
She explains why: "People often ask why we do the job we do, however, I just hope that I can make small differences to both the patients and their families during really difficult times. Hopefully, if we can improve symptoms and provide support to the family then we will help make the overall situation slightly more bearable."
The role entails visiting patients at home – predominately referred from GPs and hospitals, but sometimes from colleagues at LOROS as well – to resolve complex issues and provide psychological support.
Clare says that LOROS is a unique place to work. She highlights there is a really high retention rate amongst staff and that because LOROS is a relatively small organisation, it's got a great atmosphere.
She says: "I have been here for six and a half years. It provides the team with a lot of experience as there only three people who have been here for less time than me. It's a friendly place to work – everyone speaks in the corridor and you really feel that everyone is trying to strive for the patients and the relatives.
"We are able to discuss the patients so there is a great sense of teamwork here. We are very lucky we have many volunteers helping out too, which also creates a good atmosphere and gives a better patient experience."
Clare says Leicester is a good location for nurses, doctors and health care workers to pursue their careers, given its central location and plenty of health care facilities, including specialist centres. It's also a great place to live.
Clare adds: "It is a really diverse area, as well as being an easy place to get around. I live in quite a rural area but can quickly get into the city centre. You can also get to places quickly throughout the UK because of the good motorway network, plus the trains are really good in this area too."