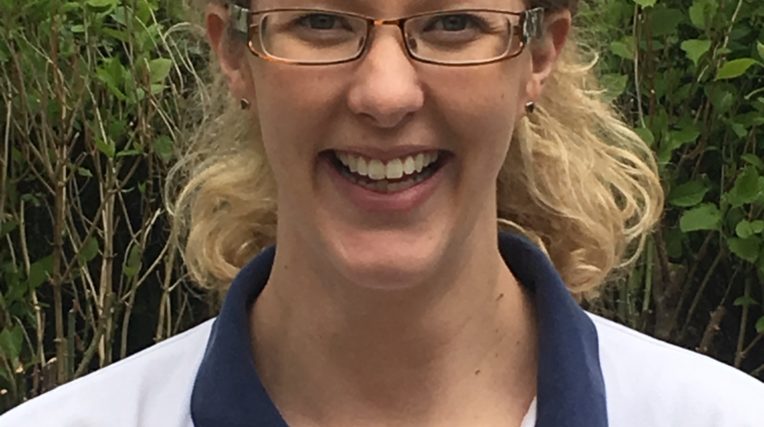 In-depth interview
Hannah Poulton – Clinical Lead, Physiotherapy – LOROS Hospice
Hannah has been working at LOROS Hospice as a Clinical Lead for Physiotherapy for almost seven years. She was attracted to the role as she wanted to use her knowledge, skills and experience to work in palliative care – an area that really interested her – and make a difference to patients.
Hannah started her career as a physiotherapy assistant at the Leicester Royal Infirmary in 2001 while studying for a physiotherapy degree to become a physiotherapist at York University. After qualifying she took on a junior physiotherapist role at the Leicester Royal Infirmary, working her way up to a Senior Physiotherapist role in neurology, before joining LOROS in 2011.
Working at LOROS is hugely rewarding and Hannah says: "A thank you from a patient and seeing a smile on their face is reward enough. We recently had a gentleman who wanted to walk his daughter down the aisle when she got married. He came into our care unable to walk; however, after his rehabilitation, he was able to walk his daughter down the aisle. Helping patients achieve their goals is priceless and the greatest reward of all."
Hannah's role is varied and includes managing a team of six physiotherapists and assistants. She also works closely with the multi-disciplinary team, especially the occupational therapists (a team of five), to provide individualised, holistic care.
On a day to day basis, Hannah treats patients with complex needs in the 31 bedded inpatient ward, as well as working with the Day Therapy patients. She also runs Outpatient clinics, delivers training and presentations, and helps implement positive changes and services developments.
The Physiotherapy Team offers a wide range of activities and services, including acupuncture, scar and tissue relief for patients that have significant scarring after surgery, Bowen therapy, exercise prescription and full in-depth physiotherapy assessments.
On the ward, the team works with patients on movement, assessing mobility and engaging them in activities they enjoy, such as walking outside or going to the social area. The team creates holistic physiotherapy plans and helps patients do similar activities to what they did before they came into the Hospice.
When asked what makes LOROS unique she says: "The amazing patients and also the staff. Everyone genuinely cares about what they do and why they are doing it. Staff always put the patient first and everything the team does is to benefit them. It's a great team working environment where you feel valued and your profession is respected."
Hannah finds LOROS an inspirational place to work. She says: "The care given to patients never ceases to amaze me. It propels me to do even better and encourages me to want to learn more, engage more and to keep on providing that excellent gold standard care. The people I am surrounded with at work are all hugely inspirational."
LOROS is also a place of innovation. Hannah says: "We're looking at seeing patients out in the community and to provide gold standard care within their home. We are also starting up our 'scar management' clinic again, working with patients who are limited by the scaring they have sustained from their radiotherapy treatment. In the past, we have achieved excellent results for patients.
"We have also been involved in exciting research projects, looking at goal setting and communication. Our Physiotherapy Team is involved in so many aspects of patient care, both directly and indirectly. It's a real honour to be part of the team."
When asked what career paths are open to physiotherapists in Leicestershire and Rutland Hannah says one option is for people to start as she did as a physiotherapist assistant to gain experience while studying for a degree. Leicester University now has a physiotherapy degree programme. There are also opportunities to shadow current physiotherapists at LOROS and for students to train.
Hannah says the training and career opportunities are amazing, and that the future plans for the hospice are exciting.
"I have never known an organisation as good as LOROS for investing in their staff. Since starting here, I have been involved in multiple courses including leadership, acupuncture and learning about motor neurone disease (MND). LOROS really do invest in you so that you can deliver the best care and the most current treatments to your patients."
"Looking to the future, the Hospice is growing massively. Day Therapy is expanding and there will be a new rehabilitation suite, in addition to the new LOROS Professional Development Centre. It's such an exciting time, with all the amazing changes which will only seek to benefit the patient and further enhance the care we can provide."
Hannah would encourage anyone looking for a career in physiotherapy to consider Leicester, Leicestershire and Rutland, which she says is a great place to live and work.
Hannah concludes: "It's such a diverse culture with so much going on and there's always something on in Leicester at the weekends. The Leicester Carnival, special events and Diwali celebrations to name just a few, plus the chance to try new and exotic foods – it's a wonderful city and one that I am proud to live and work in."